Smart TV Box provides streaming solutions for those looking for home entertainment including TV shows, films, sports and even music.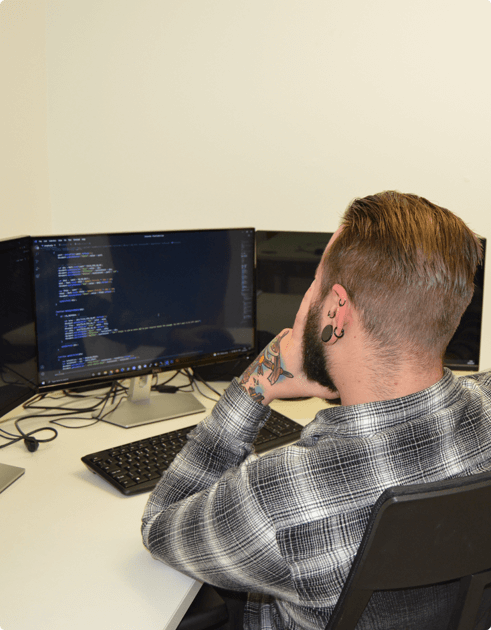 Smart TV Box needed to find the perfect balance between being a beginner-friendly website, but also getting across the details of the technologically-robust hardware they offer. In addition to this dual content function, the website needed to be staff friendly and easy to update.
A look at Smart TV Box's competitors came up with websites densely bogged down in text-heavy specs and advanced technology wordings that isolated the new or casual customer. There were few instances of straightforward explanations or everyday scenarios for customers to relate to.
To compete with this, we chose to feature an easy-to-follow explanatory video on the homepage that's incredibly user friendly. A 3 x 3 table was also placed on the homepage with single words such as 'Films' and 'Sports' to clearly convey the capability of the technology. Each of these six options were designed as links to bring the user directly to where they wanted to go on the website.
A simple three-step 'How Does it Work' graphic on the homepage avoided over-complicating things. Each individual page also combines video and graphics to simplify information. We developed this website with SEO in mind, involving adding metadata and alt text and ensuring the right level of word density was used – a trio of techniques that SEO responds positively to.
Smart TV Box has proven incredibly successful – since the website launched, the company know have a retail premises. The website is converting well above the average for companies in the same industry and has seen a month-on-month increase in visitors and customers since it's launch.
Business Analysis
Logo, Business Card & Letterhead Design
Ecommerce Website Development
Search Engine Optimisation
Website Management Training
Digital Marketing Strategy
Brand Identity
Content Strategy
Mobile Responsive Website Design
Website Accessibility
Local Search Engine Optimisation
Support and Maintenance
What Smart TV Box Had To Say
As the majority of our business is online, we needed a top notch website to promote us as the experts in streaming solutions. Working with guys at Ireland Website Design was a stress-free experience and we will continue working with them into the future. Their level of expertise and professionalism is second to none; I highly recommend them to anyone looking for a reliable, professional online presence.
– Philip Pericho, Smart TV Box
Like what you see? Want to see more? Download our portfolio brochure today!
Like What You See? Let's Get
Your Project
Moving