Kinesense provide video investigation tools to law enforcement and security markets around the world.
They specialise in video content analytic technology. This technology can detect events in video, automatically eliminating the time necessary for investigators to scroll through it.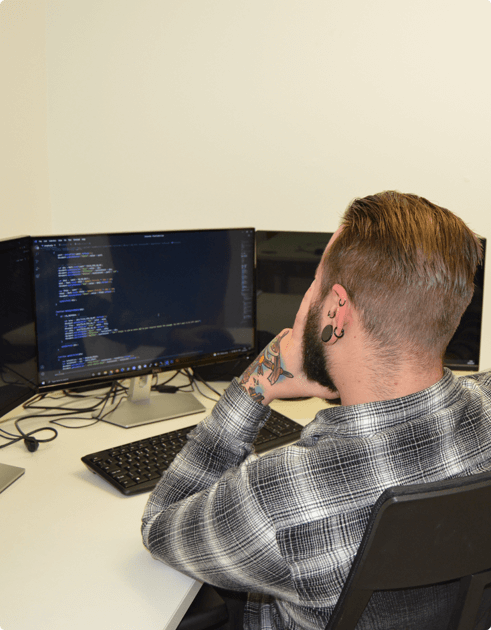 Kinesense wanted an update version of their old website that was less cluttered and shared the message of the company more clearly. They wanted to set up professional branding to match their business.
After discussing our client's needs, the design team set about creating mock-ups of what the website might look like. When we were agreed on the layout and structure of the new website, it was time to begin development. We began by creating the home page from which all other pages would receive their basic style elements.
To the top of the homepage we added a full page slider which gives new visitors an idea of the uses of Kinesense systems as well as the services they provide. Next on the page is an interactive computer display highlighting the benefits of using the Kinesense system. When users click each benefit, the display on the computer screen changes, showing a screenshot of the benefit chosen.
Our clients wanted to allow users to see different products and systems depending on their profession, we put a module in place to allow for this on the home page that would direct users to different pages depending on the selection they make. A slider was added to the bottom, showing a selection of logos from Kinesense's clients.
A number of 'Call to Action' buttons were added throughout the site to draw users to the information they were seeking.
Business Analysis
Brand Identity
Membership Portal Area
Search Engine Optimisation
Support and Maintenance
Website Audit
Mobile Responsive Website Design
Website Accessibility
Website Management Training
What Kinesense Had To Say
"Our old website didn't highlight the professional service which we offer. Through a number of discovery meetings with Ireland Website Design, we were able to come up with a new design and structure which their designer captured perfectly. The project was managed excellently and there was great communication throughout the entire process. To say we are happy with the end product is an understatement."
Like what you see? Want to see more? Download our portfolio brochure today!
Ready to get started?
Let's talk