AE Global was founded in 1994 and is located in London, England and Maydown, Northern Ireland.
They cater to clients on an international scale covering a variety of specialist industrial sectors including: Petrochemical, Oil and Gas, Water, Power and Pharmaceutical. Dedicated to an ongoing programme of training and investment, both in the latest technology and their staff, AE Global are at the forefront of the engineering industry.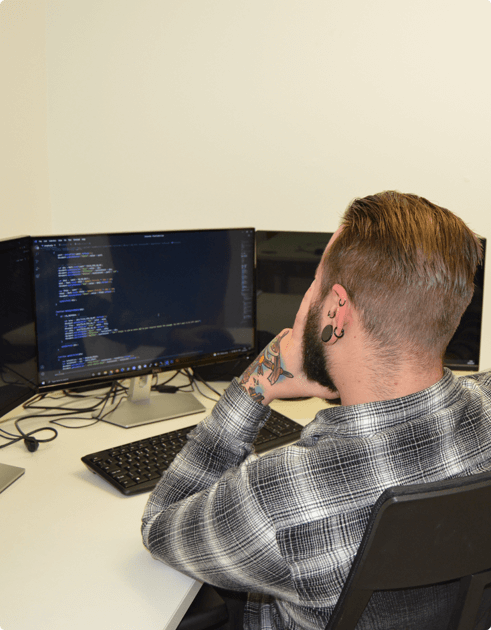 With their old site severely under-performing in sales conversions, AE Global contacted us for a complete re-branding of their company and implementation of a modern, engaging new website. After an in-depth study of their client base, their competitors' websites, business aims and what potential clients are looking for, a full website redesign and marketing plan was created.
AE Global wanted to create a strong company brand reflected in modern, clean design that showcases the company's unique positioning within their field, dedication to their area of expertise and puts them shoulders above their competitors. The intention of the new website was to attract new business in a competitive global market, generate more leads and conversions and re-position the company above their competitors online in the area of mechanical and electrical contracting.
Via a series of on-site meetings, conference calls and deep analysis of the original website, we were able to ascertain AE Global's current customer profile and therefore create a future target market proposal. Due to the company's high occurrence of repeat business with previous clients, we knew any strategy implemented would need to appeal to them, as well as attracting new companies in this highly competitive market.
In terms of web design, we found most competitors' sites were of a poor standard and almost none had implemented mobile responsive design; a key point for customer interaction, as well as success on the search engines. We found that quality, accreditation and records were more important to potential clients than price, and we would reflect this perspective in the new site's design.
So with all this in mind and extensive talks between project managers from both companies, we moved on to mock ups of the home page and creation of a new logo. Clear, simple and clean designs were chosen to reflect the company's ethics and approach to their work. AE Global wanted to highlight their successful international work with many large multinationals. To focus in on this, we chose to implement large, bright photography showcasing project work; as well as an interactive display of various work undertaken with different clients.
One of the main features of the site is on the 'Clients' page – a fully interactive bespoke Google map highlighting different project sites around the world. The colour coded pins can be filtered by location and industry type.
As previously mentioned search engine ranking was incredibly important to AE Global, to help achieve more traffic we implemented the following: improved onsite SEO, creation of an online marketing strategy, improved social media presence and geo-targeted home pages.
In order to convert traffic into sales we implemented the following: innovative and visually attractive call-to-actions, fully mobile responsive development and a focused design and functionality emphasising usability. We also devised a full bespoke marketing plan covering all platforms.
The results have been phenomenal; leading to more sales conversions than the previous website, a well-developed smooth brand image through all mediums and a stunning website that reflects AE Global's position at the forefront of their industry.
Business Analysis
Brand Identity
Brochure Design
Copywriting
Website Accessibility
Local Search Engine Optimisation
Support and Maintenance
Social Media Account Creation
Website Audit
Logo, Business Card & Letterhead Design
Content Strategy
Mobile Responsive Website Design
Search Engine Optimisation
Website Management Training
Digital Marketing Strategy
Email Marketing
What AE Global Had To Say
"Ireland Website Design has been of great assistance in the re-build of our website. They have outdone themselves in the re-build and re-branding of AE Global. I was very impressed with the level of work and the dedication their team showed in completing the rebuild on time and on budget. We have also decided to market our new website with the help of Ireland Website Design and look forward to working with them on our new marketing plan, which we are sure will be a success."
– Shaun Gallagher, AE Global
Like what you see? Want to see more? Download our portfolio brochure today!
Ready to get started?
Let's talk